Dating with Dignity Part 2: How I Found a Wonderful Boyfriend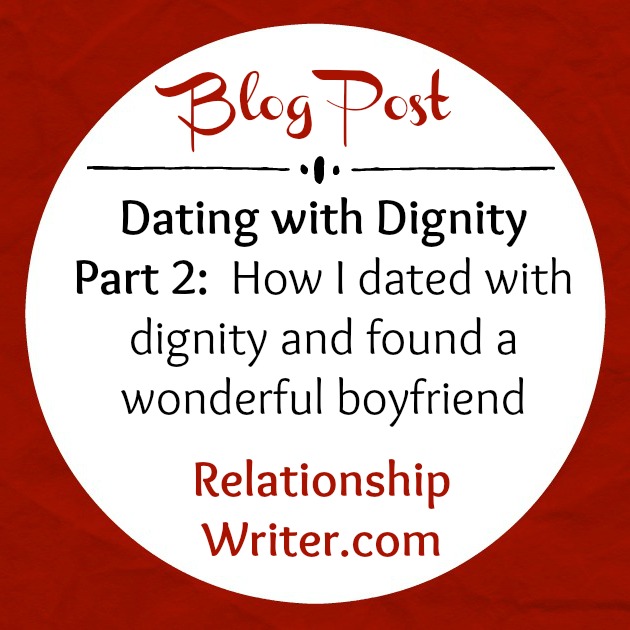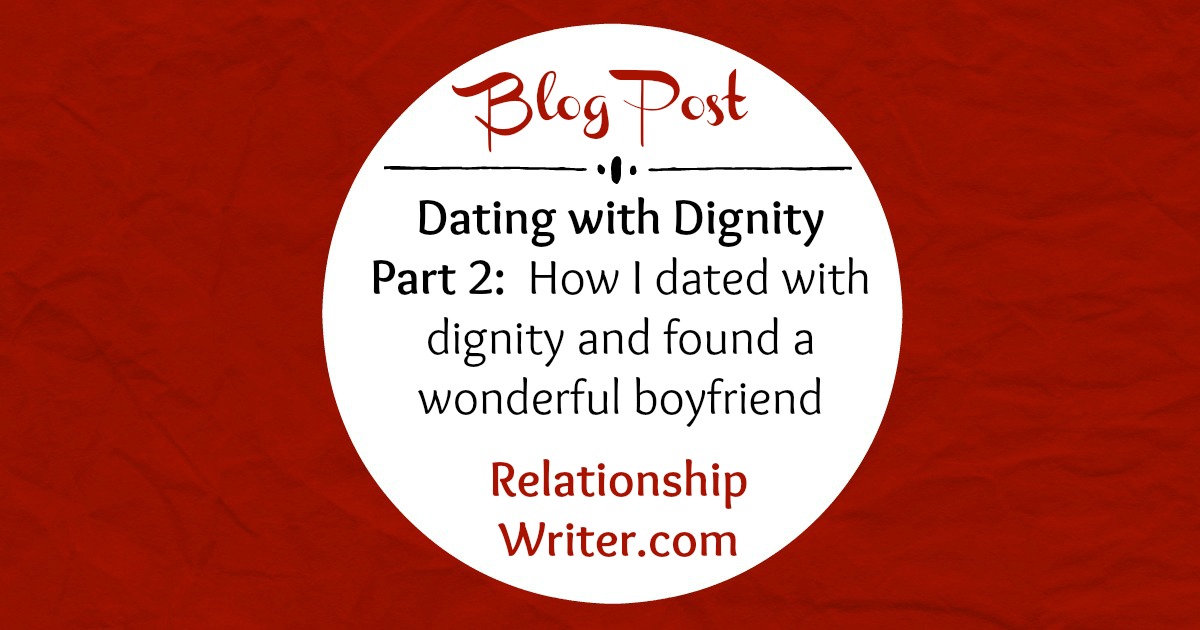 When one man disappears, a better man appears
When I wrote Dating with Dignity Part 1: The Case of the Disappearing Man Solved in 2013, I had no idea it'd end up being one of my most popular and impactful posts.
Women continue to find and comment on it. The comments section seems to have turned into a free dating advice forum. Go check it out!. The general feedback has been that my words have helped them in some way. Talk about turning a negative into a positive!
2014: It's been about 18 months since I wrote Part 1 and I'm excited to share Part 2 with you, so let's get started. I know 18 months might seem like a long time, but please bear in mind after I wrote Part 1, I didn't really date at all for about 12 months. I was in Sydney working on getting myself back to New York and, as I saw my future in the US, I didn't see much point in dating in Australia. But once I was back in New York – this time for three months instead of one – I hit the ground running and pretty much made up for all the dating I didn't do over the past year. Let me take you through step-by-step how I dated with dignity and found a wonderful boyfriend.
Step 1. Be truly confident in your value
The first thing I did was put up profiles that radiated understated confidence on two American dating sites. I'm a big fan of online dating because it's one of the most effective ways to find love.
My 2013 profile was full of self-deprecating humour. And while that can be funny, it can also come across as, well, just self-deprecating. Marni Battista of Dating with Dignity says the No. 1 thing men are attracted to is confidence. So, I embraced my best qualities and crafted killer profiles that showed off my top assets – quirky sense of humour, honesty, wisdom, integrity, and green eyes. I didn't inadvertently apologise for my age or anything else I saw as a shortcoming. This is an ad, people, and you are the product! When was the last time you saw an ad for a car that said, 'Sleek, sophisticated, roomy… okay, it has a lousy turning circle, but it's still really good'? Don't do this in your profile (or out in the world).
Date like you've never been hurt.
Step 2. Look for the right qualities
Before you start dating, you need to know what to look for in a partner.
If you don't know what to look for, you'll have a hard time finding love. You'll end up dismissing almost everyone before you've given them a chance, or hanging onto bad relationships because you're besotted by superficial characteristics.
For instance, while you might want someone who's tall, athletic and makes a certain amount of money, it's important to figure out whether or not you really NEED these things to fall in love and have a happy life with another person. Try forcing yourself to narrow it down to three must-haves. Yep, just three. Here are mine: 1. He has to be fun, 2. He has to be intelligent, and 3. He has to have integrity. Do you have your three? Good. Now, here's the clincher – you must be able to meet each other's relationship needs.
If you've found someone who embodies your three must-haves and you can picture a life with them, it's irrelevant if they can't picture a life – or the same kind of life – with you.
So, it's back to the drawing board. But that's okay. You're on the right track. For the definitive guide to ensuring you're looking for the right qualities, check out Marry Him! The Case for Settling for Mr Good Enough by Lori Gottlieb. It's great for single women of all ages. But if you're over 35, want to be in a relationship and can't figure out what you're doing wrong, it's a must-read. As you can probably guess by the title, it's a little controversial. But it needn't be. Basically, it pushes back a bit on the notion of holding out for your so-called 'dream man', and tries to make the dream a little more realistic – but still romantic and fulfilling.
Step 3. Banish bitterness
Not surprisingly, I wasn't lucky enough to hit it off with someone before I even arrived in New York and then happily date them until the moment I left all over again – that one-off experience was the New York dating equivalent of winning the lottery. Nope, this time round I had both the privilege and misfortune of feeling the full force of the notoriously arduous NYC dating scene – the one that makes you question yourself (Am I good enough?), New Yorkers (What's wrong with these people?) and whether or not you're in the right place to find love (Should I move to a different city?).
Everyone kept saying what a hideous place New York is to find love – and I was starting to believe them. Not only was I surrounded by bitter singles (both female and male), but I was reaching out to loads of men online who I felt were well within my league and barely getting a response, let alone a date. While it was incredibly disheartening, I always came back to these two principles: 1. New York was where I wanted to be for my career, friendships and life in general (at least for the time being) and, 2. The idea that I couldn't find love in New York was flat-out ridiculous. I just needed to keep going until I found my proverbial needle in a haystack. (Although, that's perhaps not the best analogy, as I can imagine finding a needle in a haystack would result in a nasty prick.)
In short, if you allow bitterness to creep in, you may as well give up right now. I know you're exhausted. I know you're frustrated. I know you've had it with broken promises. I know you're fed up with false hope. I know you're ready to give up on dating in exchange for Netflix and ice cream. I know, I know, I know! After all, family, friends, pets, career and interests are all you need, right? If you're reading this, I'd hazard a guess you want nothing more than someone special to share your life with. If that's the case…
Don't be bitter. Be better.
Step 4. Appreciate each experience for what it is
Finally, after about a month in New York and seven weeks online, I made it out on a date with someone I'd had great profile, email and text message chemistry with – and it was a disaster.
Suitor No. 1 (he was interested – I wasn't) was a nice guy, but we didn't click face-to-face at all – not even as friends. (Well, not for me, anyway. I was totally 'meh'.)
Suitor No. 2 (mutual disinterest) and I had a good first date, but he didn't ask me out again and I didn't care. (In fact, I was kinda relieved.)
Suitor No. 3 (mutual disinterest) was a fix-up. (When you're single and Jewish, people want to set you up with their single and Jewish friends – especially in New York.) After our date, we became Facebook friends, but he didn't ask me out again and I didn't really care. (Again, I was kinda relieved.) After there was zero interaction on Facebook (no liking, commenting or messaging), I deleted him.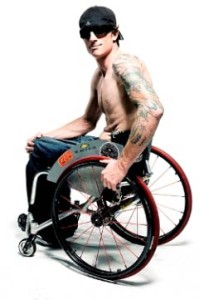 Suitor No. 4 (I was interested – he wasn't) was extremely special. We had great profile and email chemistry, and found ourselves out on a date together within a few days. I really liked him face-to-face, too. We had a long, effortless chat, but I must admit I thought he'd be a little funnier, as he was the ultimate blend of light and funny, and deep and meaningful, in his profile. I chalked it up to first date nerves, and thought he might loosen up a bit on our second date. Also, he had a unique feature that I was well aware of going in – he was paralyzed from the waist down and in a wheelchair. I didn't care. I thought he was absolutely gorgeous, athletic, intelligent, inspiring and beautiful. (That's NOT him in the pic, but you get the idea – super cool and spunky.) By the end of our date, we were holding hands and even had a little kiss. I couldn't wait for our second date, which we'd already discussed. But within a few days, I received an email from him saying he'd just had a second date with someone else and had hit it off with her. I was kinda devastated – more so because he didn't say anything about us being friends, which really hurt. But I got back on the dating horse within a week.
Suitor No. 5 (mutual interest) was awesome. Finally, I was out on a date with a decent guy who seemed interested in me. While I thought he was super sweet and sexy, I felt as though he definitely wasn't 'The One' early on. We only had two dates because he didn't live in New York (he lived upstate) and his next two weekends – the only two I had left in New York – were booked up with other things.
Suitor No. 6 (we have a winner!) was a surprise. I had three weeks left in New York when I met him, so I was running out of time to meet and get to know someone new. You can read all about him here but, in a nutshell, what started out as 'ho-hum, he's a nice guy, let's hang out' turned into 'hot-damn, he's the best guy ever'.
I got something out of every date – from good conversations to life-changing lessons – which is why it's important to appreciate each experience rather than seeing every romantic (or unromantic) interlude that doesn't result in 'happily ever after' as a failure.
'Happily ever after' comes along so infrequently that you may as well enjoy the journey – and my journey has brought some great new friends and contacts into my life. That's dating with dignity.
Step 5. Be assertive
The other breakthrough moment I had while delving into Marni Battista's Dating with Dignity material was to be more assertive with men when it came to what I wanted.
She advises women not to slip into 'cool girl behavior' and act like they don't care that the relationship isn't meeting their needs in the hope that, by doing so, it'll eventually meet their needs.
Firstly, it doesn't really work. If a man isn't giving you what you want, chances are he probably never will. Your only hope is to communicate your needs to him. Secondly, when it comes to love, you deserve cake – not crumbs. Don't attempt to live on crumbs for too long.
I applied this in a few instances. There was the guy who mentioned sex a few too many times during our first phone call, so I told him I was looking for a relationship – not casual sex – and he sent me a thoughtful email a few days later agreeing we weren't a match at that point in time. He was fresh out of a marriage and not remotely interested in starting a new relationship. We didn't end up having a date, which was fine by me.
Then there was the guy who wanted to have heaps and heaps of contact, but never seemed to be able to make time to meet me. When I told him I didn't feel comfortable having any further contact until we met face-to-face, as I'd been burned by this in the past (see Suitor No. 1), he disappeared. Also, he gave me a creepy vibe, so I'm glad he disappeared.
As for my boyfriend, he got the Dating with Dignity treatment, too. Even though I felt as though we were on the same page about our relationship, I checked in with him towards the end of his trip to Australia just to make sure. I'm really glad I did that, as it gave us both a chance to express how we felt about various things so there was no confusion going forward. In the past, I may have been scared to have this conversation for fear of rocking the boat or being seen as the 'we need to talk' girl.
It's important to note that in all of the above instances, I never said anything in an angry or threatening way, but more in a 'Hey, this is where I'm at – how about you?' kinda way. Tone and wording are extremely important.
You can't bark what you want but, rather, say what you want in a gentle but assertive way. If a guy runs from your gentle but assertive approach, let him run. You can't have a life with someone if you can't have a calm, rational discussion with them.
I think being assertive also includes trusting your instincts. It's one thing to broaden your search criteria to give yourself a greater chance of finding love (which I strongly recommend you do), but don't feel as though you have to go out with people you're not remotely interested in.
There's a difference between settling on one person and settling.
Settling on one person means you're mature enough to realize you're not going to get absolutely everything you're looking for in one mere mortal (and, let's face it, they're not going to get absolutely everything they're looking for in you), but you're truly happy with what you've got and cherish your relationship. Settling means you've settled on someone you're not particularly happy with because you think you can't do better or are terrified of being alone. Well, as the saying goes, it's better to be alone than wish you were.
Step 6. Hang in there!
The truth is dating sucks… until it doesn't.
While I strongly believe in appreciating each dating experience for what it is (see Step 4), I know first-hand that, sometimes, you just want someone special to come along so you can leave the dating world behind and get on with your life – with your new partner. I get it! But let me invoke that old chestnut: It's a numbers game. The more people you meet and dates you go on, the greater your chances are of finding someone to share your life with. Get the fundamentals right and it's simply a matter of time. Isn't that exciting!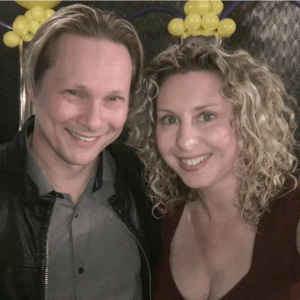 Update: 4 years later in 2018
For various reasons, our relationship didn't work out. You can read all about that in Dating with Dignity Part 3: The Good, the Bad, and the Breakup.
But that's okay. My partner, David, and I have been together for over two years, living together for over a year, and planning to get married in 2019. (We're not officially engaged yet, so that'll be a fun surprise!) I'm so much happier in this relationship.
If you only do ONE THING while you're here…
Subscribe to my email list. Why? Because I'm giving my absolute best dating advice away for FREE. Please join me for my life-changing email series, Profile to Partner: The 'hallelujah' 14-step system to finding love online before you marry your cat! Simply enter your name and BEST email address below and prepare to have your confusion, frustration and disappointment put to rest. (You're welcome!)