Dating with Dignity Part 1: The Case of the Disappearing Man Solved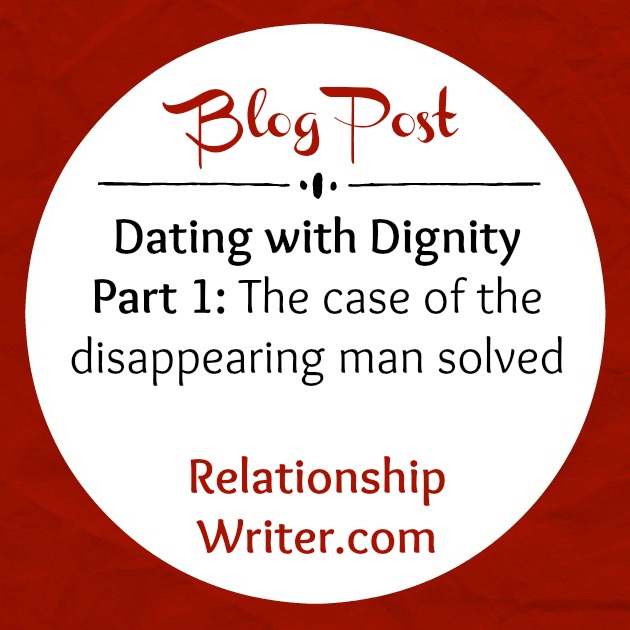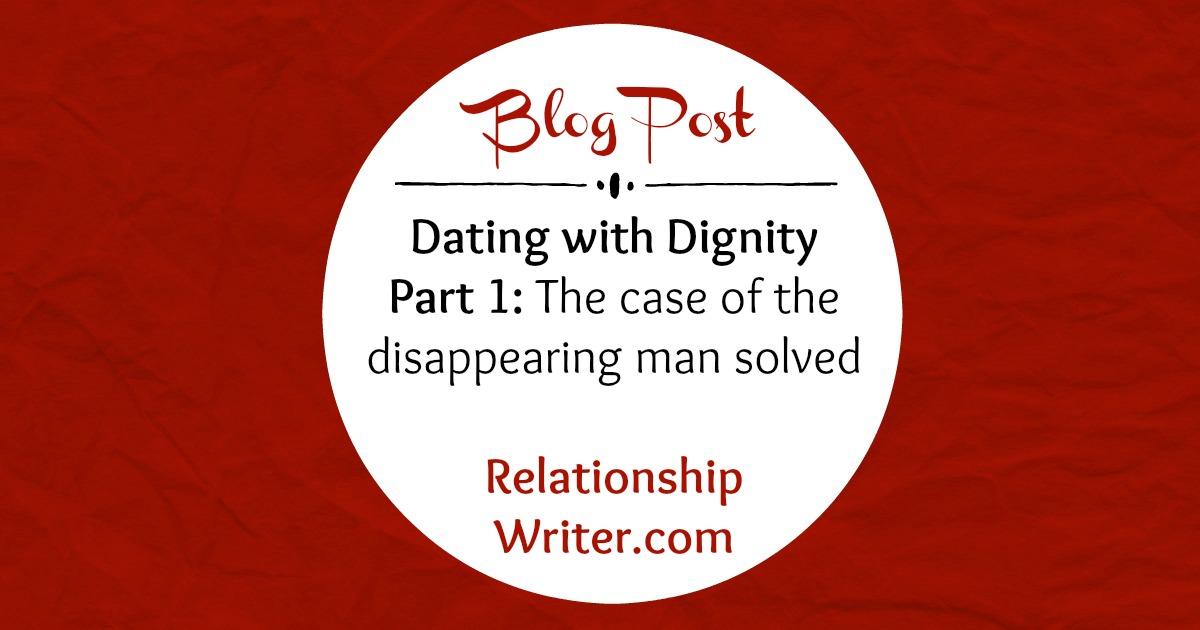 Ever been 'ghosted'?
'Ghosting' is when someone you're dating or in a relationship with disappears on you. And it's extremely hurtful.
2013: I recently had a boyfriend of two months totally, utterly and completely disappear on me. Despite my extensive dating history, this had never happened to me before. I later found out it's extremely common. So common, in fact, there's a whole chapter devoted to it in He's Just Not That Into You by Greg Behrendt and Liz Tuccillo. I remember reading it years ago and thinking, 'Ha! That'll never happen to me.' Ha! I'm such a idiot sometimes.
Anyway, MDM (Mr Disappearing Man) and I had something really good going, or so I thought. First and foremost, we just clicked. We were the same age and from a similar background, had loads in common, got along famously, had great chemistry, and seemed to want the same things in life. He called me every day, took me out a few times a week, and always had a lot of energy and affection for me.
Sure, it wasn't perfect. And we had a long way to go to get to know each other, build a little history, and make some memories. But on the whole, it looked very promising. I hadn't had 'promising' with someone in years. I won't bore you with the details but, long story short, out of no where, he disappeared on me.
One minute he was calling and/or texting me daily. The next, I couldn't get in touch with him for love or money.
Two things before we proceed: 1. No, I didn't drive him away. While, naturally, we didn't always see eye-to-eye, we never had one argument. Besides, there was no excuse for his decision to end things via radio silence. And 2. Yes, he's still breathing. I have my theories as to why he vanished so fast it made my head spin. But this isn't about him. It's about me. And you. And relationships.
How not to let 'ghosting' turn into 'trust issues'
Once I came to terms with the fact that I might never see or hear from him ever again (which I was disappointed but not devastated by), I was faced with a new dilemma:
How am I supposed to get back out there when, apparently, dating someone for two months and having everything going for you as a couple means absolutely nothing – not even a friendship or, at the very least, a goodbye?
How am I ever going to feel happy and safe in a relationship when the guy could shock me to my core at any minute? Fear and pessimism was NOT the vibe I wanted to bring to the table.
I went online searching for answers. One click led to another click led to another click and I found myself at a website called Dating with Dignity. A warm and friendly woman named Marni Battista was offering a free three-part video series, which included some of her best dating advice. It wasn't long before Marni had my email address and, over three days, I received the three 35min videos.
I'll be honest and say, at first, I was skeptical. What could she possibly tell me that I didn't already know? I was 35 and experienced. I'd read countless books and articles. I believed in having a good therapist. And I was somewhat of an 'expert' myself, having written a humorous relationship advice book, inspired by lessons I'd learned over the years. Let's just say I felt as though I knew my stuff. But there's nothing I love more than being pleasantly surprised…
The three free Dating with Dignity videos were jam-packed with great tips, but here are the top two revelations that I, personally, took away:
1. Stay true to what you want, and if the relationship isn't progressing, move on
You see, even though things were fairly hunky dory with MDM, I could feel the relationship not progressing. At the time, I decided to put it down to only being two months in, but my gut knew better. (Damn guts – they're almost always right.) Even at the two-month mark, I felt as though we should have been a little further along. I didn't know what to make of this.
Unbeknownst to me, MDM was what Marni calls a 'Mr Quality Casual'. (No wonder I didn't know how to handle him – I'd never dated a 'Mr Quality Casual' before.) Basically he's a guy who does almost everything right – except he's looking to keep things somewhat casual. For whatever reason, he's not in a position to offer you a full-blown relationship. Perhaps he's just come out of a long-term relationship and is still mending a broken heart, or he has a few personal issues he needs to sort out before he dives head-first into a new relationship, or he has other priorities in his life (such as his career or child/children), or he's just not ready, or just not that into you, or both! In any case, no matter how well you match up in other ways, you don't match up in this way. So, what's a gal to do?
My response was predictable. I did what Marni calls slipping into 'Cool Girl Behavior'. Women (myself included), when faced with this problem, have a tendency to think that if they're 'cool' enough and patient enough, the man will eventually come around. Newsflash: It doesn't really work.
Your job is not to hang around accepting crumbs and living in hope. Your job is to check in with him and find out whether or not the two of you are on the same page.
Be strong. Stick to your guns. Let him know that, ultimately, you're looking for someone to share your life with, and if he's not looking for the same thing then you're not a match. This conversation will do one of two things. It might make Mr Quality Casual step up to the plate and become Mr Boyfriend Material. But it probably won't. You have to be prepared to walk away when you find out he doesn't want what you want. This is a good thing. This is the whole point. Now, you can stop investing in this going-nowhere relationship and refocus your energies on finding someone who's on a similar life trajectory.
Of course, there are times to be 'cool' and patient. And it's not always appropriate to have a full-on conversation about what you want. (No woman wants to be the 'We Need to Talk' Girl. We know men hate it.) Sometimes, it's best to just read the signals and act accordingly.
What this advice did for me was made me feel empowered. I no longer felt like a current and future victim of men who didn't want to take their relationship with me to the next level.
I no longer felt as though I had to play it 'cool', accept crumbs and wait, wait, wait to feel liked, loved and cherished by men I wanted more from. I was free to choose. If things weren't progressing, I had the power to take the bull by the horns and get myself back on the right path – the path to a fulfilling relationship.
Let's illustrate this with a film reference: Pretty Woman. Yes, I never thought I'd see the day where I could say I learned something from this film, rather than just being entertained by it, but here it is: At the end of Pretty Woman, even though Julia Roberts' character, Vivian, is a prostitute, she won't accept anything less than a proper relationship from her Knight in Shining Armani. Richard Gere's character, Edward, attempts to pull a Mr Quality Casual on her – offering to buy her an apartment, a car, and 'keep her off the streets'. He says he wants to keep seeing her, but doesn't seem willing to bridge the distance, what with him in New York and her in Los Angeles. Her response was of the 'thanks, but no thanks' persuasion. Until now, I never really understood why she didn't take him up on his offer. I do now.
The longer she let him treat her as though she wasn't worth what she wanted (true love and commitment), the longer he'd continue to see her a certain way, and the relationship wouldn't progress.
2. Be truly confident in your value
I never thought I didn't 'deserve' someone wonderful. But I was starting to think I might not be able to 'get' someone wonderful. As you advance into your 30s as a single woman, you notice it more with every passing birthday – slowly but surely, men begin to overlook you for younger women. It's so depressing! Suddenly, even men your own age don't want to date you. (Why would they when they can get a nubile 20-something, right?) Just when your stock should be up (sure, you've acquired a couple more wrinkles and/or pounds, but you have SO much more to bring to a relationship than you did 5-10 years ago), you feel as though you're no longer worth as much on the singles market. And there's plenty of reading material out there to confirm your fears.
Since you've been 'left on the shelf', perhaps it's time to start discounting. Well, hold it right there, partner! Put your hands in the air and step away from the pricing gun!
Don't even think about selling yourself short. If you're honestly 'bringing it' (physically, emotionally, spiritually, financially etc.) then be confident in your value. Truly confident. Don't inadvertently apologize for your age, appearance, or anything else you're scared might be seen as a shortcoming. Men will only value you as much as you value yourself. You need to go out into the dating world (and the world) as though you're valuable, and that there's absolutely no reason why you won't find someone who'll value you.
I was surprised this resonated with me. I always thought I was pretty confident. But I realized my self-deprecating humor could sometimes be interpreted as, well, just self-deprecating. My goal was to be modest, but I needed to be wary of sending the wrong message: That message being, 'Hi, I'm Elly. I'm really not that great.' Bah-BOW!
I do, from the bottom of my heart, believe I'm more valuable today than I've ever been before. (Like a fine wine, I appreciate with age.) I've come a long way, and I can only see it getting better.
I know I'd make an exceptional girlfriend and wife for the right man, and I can't wait to start building a fabulous, meaningful, inspiring life with him.
Give up the ghost
The case of the disappearing man had been solved, but not in the way you might have expected when you started reading this blog post. I don't know exactly WHY he disappeared, and I don't care. Because it's not about him. It's about me and being able to see a way forward. I now know the solution is twofold: 1) Stay true to what I really want, and 2) Be confident in my value. Case closed.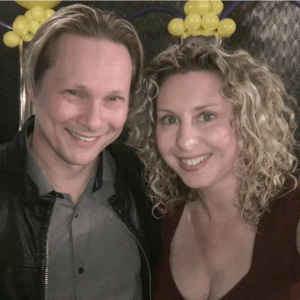 Update: 5 years later in 2018
If you go back through my blog and read my more recent posts, you'll discover I've had two major relationships since this loser ghosted me.
The first one didn't work out, but ended reasonably amicably. The second one is ending in marriage! David (pictured) and I met in January 2016, have been living together for over a year, and are planning to get married in 2019. (We're not officially engaged yet, so that'll be a fun surprise.)
If you only do ONE THING while you're here…
Subscribe to my email list. Why? Because I'm giving my absolute best dating advice away for FREE. Please join me for my life-changing email series, Profile to Partner: The 'hallelujah' 14-step system to finding love online before you marry your cat! Simply enter your name and BEST email address below and prepare to have your confusion, frustration and disappointment put to rest. (You're welcome!)
Please note: The comments section below has become a bit of a free dating advice forum. You might want to scroll down…