Men Are Like a Box of Chocolates
LOOK-SEE
Video
What do Brad Pitt, Hugh Jackman, Russell Brand and Charlie Sheen have in common? They're all featured in the Men Are Like a Box of Chocolates YouTube video. Check out the celebs we'd like to take a bite out of...
Virtual Book
Browse Men Are Like a Box of Chocolates by clicking through the virtual book. You can flip the pages, zoom in and out to read the text, and see the front cover, back cover, table of contents and three sample chapters. The best way to do this is by first clicking 'Fullscreen' in the top left-hand corner.
Men Are Like a Box of Chocolates is available both as a physical book and e-book. The physical book is 17cm x 17cm (or 6.7 inches x 6.7 inches), and only 7mm thick (or 0.3 of an inch), with a stylish matt-laminate cover and glossy pages. To purchase as an e-book or order a signed copy (or copies!), please click on the Order the Book tab. Enjoy the feast!
I WANT, I WANT!
There are two ways to devour Men Are Like a Box of Chocolates. First published as a charming physical book (perfect for bookshelves, coffee tables and nightstands… ah, those were the days), it's also available as an e-book on Amazon.com for a fraction of the cost.
Ready to order? Click here to purchase the e-book version:
Read on to purchase a signed copy:
Ready to order? Are you a retail customer or wholesale customer?
Click on 'retail' and 'wholesale' to flip back and forth between the pages.
Retail customers want the book for themselves or as a gift. Wholesale customers want the book in bulk for business purposes.
Please Note: For now, all prices are quoted in Australian dollars.
---
Retail Customers
Dear retail customers,
Men Are Like a Box of Chocolates is valued at $19.95. Purchase it here and you will receive a SIGNED COPY and FREE SHIPPING*. Awesome! Please note that while other online booksellers might appear to be offering the book for a little less, shipping fees can bring your purchase up to $25. So, if you want the best deal online, you've come to the right place.
Men Are Like a Box of Chocolates is:
The perfect birthday, Christmas/Hanukkah or 'just because' present for a female chocoholic or any women with a sense of humour
The ultimate way to cheer up a single lady on Valentine's Day
A great way to console a gal pal going through a break-up
A delightful reward for a group of female work colleagues or team mates
A terrific gift or competition prize for hen's night attendees
A lovely way to treat yourself
Just like a box of chocolates, you won't be able to put it down!

Enjoy the feast,
Elly Klein, author

*Unfortunately, if you're ordering the book to an address outside of Australia, you're not eligible for the awesome shipping deal. You'll need to chip in an extra $5 per book for shipping... but it'll be totally worth it! We are currently working on bringing Men Are Like a Box of Chocolates to the rest of the world, so it won't always be this way.
Dear wholesale customers,
If you own or run one of the following businesses (bricks & mortar, online or both), you might be interested in stocking Men Are Like a Box of Chocolates or ordering a large quantity for a special event or promotion:
Gift store
Chocolate store and/or café
Women's fashion, accessories, sleepwear or lingerie store
Homewares store
Newsagency
Pharmacy
Post office
Hair salon
Day spa
Women's getaway retreat
Hotel or B&B (especially those with a chocolate theme or package)
Hamper service
Dating service
Hen's party supplier
No matter where you are in the world, if you're interested in becoming a wholesale customer, please email me for the wholesale price and any further information you might need: elly@ellyklein.com
Looking forward to hearing from you,
Elly Klein, author
BOOK BUZZ
The Peach - Tuesday 4th December 2012
The new, fresh and juicy Australian website, The Peach, published Elly's piece on 'Making Something of Yourself', which is a more down-to-earth view on attempting to live one's dream. You can read that HERE.
CLEO magazine - three articles, September & October 2012
Watch out for Elly's sex and dating tips (part of two separate articles) in upcoming editions of CLEO, one of Australia's premier women's magazines. And don't miss the third article, which will feature Elly as someone who has a life like a TV character - that character being Carrie Bradshaw from Sex and the City. A single 30-something who writes about men and relationships in a humorous manner, has golden curly hair and is obsessed with New York... yep, she's Carrie without the Manolo Blahniks!
RSVP.com.au - August2012 - January 2013
Elly is proud to have teamed up with Australia's No. 1 dating website, RSVP. She will be providing regular, light-hearted blog content on the subject of dating and relationships, as well as special offers on her book, Men Are Like a Box of Chocolates. Check out her posts... Post 1: Lessons from an RSVP Matchmaker. Post 2: 5 Steps to a Successful 'Dinner and a Movie' Date (for the Arts & Culture group). Post 3: The Good, the Bad and the Ugly... A Personal Account of an Online Dating Journey. Post 4: Dating & Dining: A Food & Wine Lover's Guide to Dating (for the Food & Wine Lovers group). Post 5: Armed & Dangerous: The Best Dating & Relationships Advice Books. Post 6: Why Solo Travel Rocks: Wild Adventures & Top Tips (for the Travel Bugs group). Post 7: Your RSVP Profile Checklist - 30 Things You MUST Get Right Post 8: How to Have a Merry Christmas When You're Single
City Tattersalls (Sydney) - Wednesday 25th July 2012
Elly was invited to speak on a panel of authors for 'Girls' Night Out', held at the Omega Lounge in City Tatts, Sydney, Australia. Topic: 'The Book in You'.
Grazia magazine - Monday 18th June 2012
Elly's third relationship advice piece for Grazia appeared in this week's edition. If you would like to read all three of the pieces so far, click HERE.
Mamamia - Friday 1st June 2012
What a way to kick off the (southern hemisphere) winter! Elly is most excited about her first Guest Post on Mamamia, one of Australia's biggest women's websites. Click HERE to read the dating/relationships-related post on Mamamia or HERE to read it on Elly's blog and join the discussion. And stay tuned for, hopefully, more guest posts on Mamamia.
Grazia magazine - Monday 14th May 2012
Released on Monday 7th May 2012, this edition of Grazia contained Elly's second relationship advice piece for the magazine. The light-hearted debate topic was: 'Should you invite your ex to your wedding?' Elly argued 'yes'. The lovely and hilarious Emma Markezic argued the 'no'. Elly will upload it here as soon as she gets a hold of the PDF and figures out how to do it!
Gifts By The Stars - Thursday 3rd May 2012
Thank you to Elizabeth Ball of the blog Gifts By The Stars for selecting Men Are Like a Box of Chocolates as the No. 1 unusual hostess gift under $60. Check out the post (and great gift ideas) HERE.
The Aphrodite Chase - Tuesday 3rd April 2012
Thank you to Sarah Ayoub, Chaser-in-Chief of the charming, girly website, The Aphrodite Chase, for featuring Men Are Like a Box of Chocolates as a unique Easter gift for the ladies. The page looks beautiful and Elly was honoured to be included alongside all those delicious goodies. Click HERE to view the post.
Femail.com.au - Monday 30th January 2012
Thank you to Femail.com.au, one of Australia's premier women's websites, for featuring Men Are Like a Box of Chocolates and running a competition to win one of ten books. It was reported that over 1000 people entered. What a great result! To read the interview with Elly, click HERE.
Sydney Morning Herald - Thursday 5th January 2012
This one isn't about Men Are Like a Box of Chocolates. It's about Elly's 'Passion Project': mentoring underprivileged teenage girls. Thank you to interviewer Mercedes Ruehl for a fabulous interview and team effort. Elly, Renee, Alyson and Chelsey were stoked to see themselves in SMH! Read the piece HERE.
Grazia Magazine (Aus) - Monday 19th December 2011
When Grazia Magazine received their copy of Men Are Like a Box of Chocolates, they called Elly to write a humorous little pre-Christmas relationship advice piece. When Elly figures out how to upload a PDF to her site, it'll be posted here! This was her first published piece of this kind - very exciting. She's looking forward to doing more of this kind of work.
Business Chicks - Thursday 15th December 2011
Thanks so much to Business Chicks for running a Facebook competition where five ladies were given the opportunity to win a copy of Men Are Like a Box of Chocolates. The worthy winners enjoyed an early Christmas present.
Mosman Daily - Thursday 15th December 2011
Thanks to The Mosman Daily, Elly's local paper as she was growing up, for giving Men Are Like a Box of Chocolates a mention. Click HERE to read it.
Galvanize Press - Monday 12th December 2011
Thanks to Belinda Gregory of Galvanize Press for a great interview! She found Elly when Men Are Like a Box of Chocolates was showcased on the popular female-oriented website, MamaMia.com.au. Click HERE to read the interview.
Fish Max - Monday 5th December 2011
The Australian Online Fishing Magazine, Fish Max, recommended Men Are Like a Box of Chocolates in the Christmas Gift guide, entitled What Women Really Want For Christmas. Find it HERE. Thanks, guys!
Village Voice (Sydney's Inner West) - Friday 2nd December 2011
Thanks you to the Village Voice for running a story similar to the recent Inner West Courier one. Cute headline: A Book On Men Choc Full Of Help. Click HERE to read the article online. Click on the text to zoom in.
Mamamia - Wednesday 30th November 2011
Thank you to Mamamia.com.au (Elly's favourite blog!) for featuring Men Are Like a Box of Chocolates in the image gallery of this week's Open Post. Click HERE to check it out. As a result, Elly was approached for an interview by another media outlet. Stay tuned for that!
Inner West Courier - Thursday 24th November 2011
Thanks to the Inner West Courier for covering the book launch at Sucre and giving Men Are Like a Box of Chocolates a lovely write-up in the paper. Click HERE to check out the online version.
Book Launch - Wednesday 19th October 2011
Men Are Like a Box of Chocolates was launched in Sydney, Australia, at Sucre (Chocolate & Dessert Heaven), 325 Darling St Balmain, on Wed. 19 Oct. 2011. Thank you so much to Ian, Judy and the Sucre team for a sensational and delicious launch! Not only does Sucre now sell the book, but they also have a mouth-watering Cajun lunch menu - a rare find in Sydney. Go try it!
Here are some of Elly's favourites snaps from the event:
The book (next to an I Love Chocolate tin)!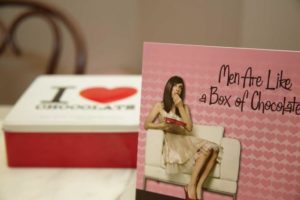 The chocolates!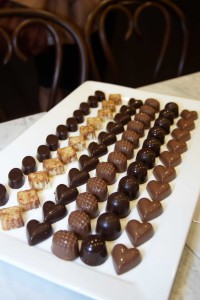 The shoes!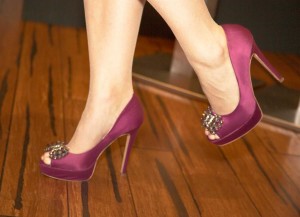 Elly and three of her four Little Sister mentees (the siblings)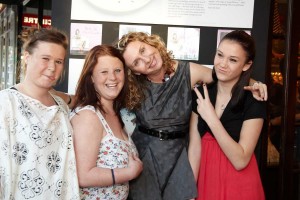 Elly giving her speech and accepting flowers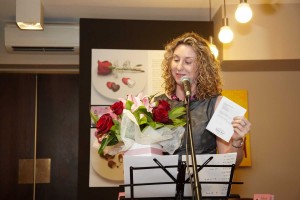 The verdict is in - people LOVE the book!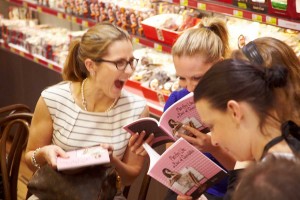 FREQUENTLY
(AND INFREQUENTLY)
ASKED QUESTIONS
1. Release Date
Q: When was Men Are Like a Box of Chocolates released?
A: Men Are Like a Box of Chocolates was launched in Sydney, Australia, at Sucre (Chocolate & Dessert Heaven), 325 Darling St Balmain, on Wed. 19 Oct. 2011. Please visit the Media Coverage tab for details of the festivities.
2. Delivery Times
Q: After I place an order, how long will I have to wait to receive my book/s?
A: Books are dispatched within 24 hours from Sydney, Australia. If you're in NSW, you should receive your book/s within 2 business days. If you're in WA, it might take up to 5 business days. And if you're overseas, it's anyone's guess… but it shouldn't be more than 15 business days, and it'll be worth the wait! If you have not received your book/s within the above time periods, please email the author: elly@ellyklein.com.
3. Picking up Books
Q: I live in (or am going to be visiting) Sydney. Can I go and pick up my book/s?
A: Unfortunately, no. However, if your office is in Sydney and you intend to place a massive order (say, over 100 books), we might be able to work something out. Please email the author first, though: elly@ellyklein.com.
4. Bookstores
Q: Is Men Are Like a Box of Chocolates available in bookstores?
A: Yes, but only in Australia (at this early stage) and only for retail customers. If your business is overseas and you'd like to stock the book or purchase a large quantity for an event, promotion or giveaway, please email the author: elly@ellyklein.com.
5. Publisher
Q: Is Men Are Like a Box of Chocolates self-published?
A: No. It's published by the renowned non-traditional publisher, The Messenger Group; a publisher that allows authors to bring an entrepreneurial spirit to their book projects.
6. Contacting the Author
Q: Would the author mind if I sent her an email?
A: Not at all. She'd love to hear from you (especially if it's positive feedback). Her email address is: elly@ellyklein.com.
7. Book Signings and Speaking Gigs
Q: Would the author be willing to speak at our store or event?
A: Quite possibly. Send her an email: elly@ellyklein.com.
8. Oh no, not another Sex and the City wanna-be
Q: A humorous book about men and relationships… Who does the author think she is? Carrie Bradshaw?
A: Well, she's certainly got the hair for it! But does Carrie Bradshaw spend her free time mentoring underprivileged teenagers and dreaming up ways in which she might be able to make the world a better place? There's your answer. (Although, she is a HUGE Sex and the City fan and knows the show inside out.)
9. Just what the world needs – more man-bashing
Q: Is the author a vacuous, bitter, stereotyping man-hater?
A: Not at all. Her writing is extremely sharp and witty. Her book certainly makes light of men and relationships (it wouldn't be funny if it didn't), but it has a positive, uplifting message. Fellas, you have nothing to worry about. The ladies will love you just as much (if not more) than chocolate after they've read this book.
10. Date the author
Q: I think the author's cute… in a quirky, wide-eyed dreamer kind of way. Would she mind if I asked her out on a date?
A: Only if you're willing to risk ending up in her next book (heh heh).