Dinner and a movie – the foundation date for most relationships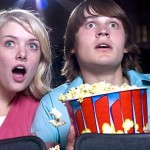 I have a dating mantra that goes like this: 'All first dates should be conducted in dim lighting and under the influence of alcohol.' And if they're blind dates, well, all the more reason to get blind. However, for your second date and beyond, I'm a big fan of the classic: dinner and a movie.
Dinner and a movie dates are, arguably, the foundation date for most relationships. This is probably because they offer the perfect mix of chatter plus a relaxing shared activity (preferably involving cuddling), followed by more chatter – dissecting the movie afterwards is one of the best parts.
So, in an attempt to improve your love life, if only in a small way, here's my 5-step guide to a successful dinner and a movie date:
1. Mutual satisfaction
The most tentative aspect of any dinner and a movie date is the movie selection. Really, truly, try to pick something you both want to see. Ladies, don't sit through blood 'n' guts if it's not your cup of tea. And fellas, don't endure 'the romance film of the year' if all you're going to do is give it a five-turd rating. Nobody likes a movie-pooper. You can't control how you're going to feel about a film coming out of it, but you can control how you feel going into it. Make sure it's something you're both looking forward to.
2. Eat first. Watch second.
Once you've selected the film, cinema and session time, start with dinner. This will give you a chance to get to know each other or, if you already know each other, catch up. Also, you'll be well-fed, so you're less likely to pig out on popcorn and feel like one big, buttery kernel by the time the credits roll. If your movie-going experience isn't complete without a tasty (and over-priced) treat, feel free to indulge – but try not to over-indulge. (More about that later.)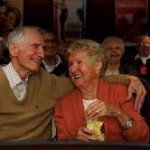 3. Movie manners
How you behave in the cinema says a lot about you, so be sure demonstrate impeccable cinema etiquette. Show courtesy for those around you by keeping it down (talking, munching and, if you're lucky, smooching). Avoid putting your feet on the seat in front of you (um, I'm guilty of this). And remember to switch your phone to silent – bonus points for abstaining from texting, emailing or social media updating altogether. Try not to talk through the film or ask your date too many stupid questions. ('Psst, why did they kill that guy? I thought the guy with the mustache was the bad guy. Oh, he's really her father. I get it. Then who's the woman in the polka-dot dress?') And, contrary to pop culture, if you've never hooked up before, this is NOT a good time to crack onto your date with the cliched 'yawn + arm around the shoulder' manoeuvre. If it doesn't go according to plan, you could be in for an extremely awkward two hours. Here's how you find out if your date is up for any physical contact with you – sit shoulder-to-shoulder. If they're comfortable touching you, you're in. If they move away, they're not ready. If it feels right, you may want to gently touch their knee or hold their hand. In any case, don't rush it – a little anticipation goes a long way.
4. We need to talk
I don't know about you but, as a cinephile, if a potential partner can walk out of a film without discussing it, he's not the one for me. Art, be it a motion picture or a painting, is, at worst, a talking piece and, at best, has the power to change your perspective and your life. Plus, this is your big chance to turn your date on with your sexiest body part – your brain – by giving an intelligent opinion. Be honest, but try not to be too harsh. You're on a date – not filling in for Roger Ebert.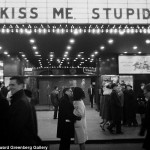 5. Après-film
Go out for coffee afterwards. Or ice cream. Or a drink. Or just a stroll. This will give you a chance to chat about the film in more depth or pick up where you left off after dinner. It's also a chance for you to decide whether or not you want to end this classic date with a little intimacy. You may have heard people say that 'dinner and a movie' dates should really be 'a movie and then dinner' dates, so you can discuss the film over a meal, but I disagree. No matter how attracted I am to someone, the last thing I feel like doing straight after a main meal is getting my gear off. I feel full, heavy and unsexy. I need a couple of hours, hence my reason for eating first and trying not to pig out in the cinema. Assuming your dinner and a movie date has gone swimmingly, you might want to end it with a kiss (if not more). Ah, dinners, movies and kisses… three of my favourite things.
Have you ever been on a particularly good or bad dinner and a movie date? Leave a comment below and let's chat!