No-BS: Oh, did I mention I'm brutally… um, I mean… beautifully honest?
Welcome to my unique no-BS page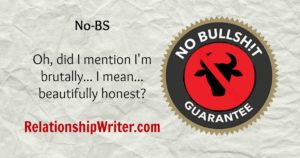 Here's the thing… I'm a no-BS kinda gal. If your bum looks big in this, I'll tell you. Not in an unkind way. Quite the opposite, actually. In a 'To be honest, it's not the most flattering outfit, but let's find something that makes you look simply bootylicious' sorta way. I need a place on my website where I can be completely honest with you. My honesty used to get me into trouble but, now, I think it's one of my greatest assets. I hope you do, too.
I have a superpower
I know saying 'I have a superpower' makes me sound like a bit of a tool, but it's true. My superpower is I'm a damn good writer with a big, fat heart. I also have a passion for dating and relationships. I've been interested in it since the prepubescent age of 11 when I bought my first self-help book: Girltalk About Guys – Honest Answers to Candid Questions, by Carol Weston. It was published in 1983 and I still think it's brilliant. It sits proudly on my bookshelf lovingly preserved in clear Contact (you know – that sticky stuff you use to cover schoolbooks). Being able to combine my writing and relationship skills to help people find, maintain and celebrate love is what drives me.
You know what sucks? That I can't show you my best dating profiles.
They say imitation is the sincerest form of flattery. But in my line of work, imitation is the sincerest form of assholery. I can't publish examples of dating profiles I've written for clients that I'm extremely proud of because people rip them off. Instead of writing an original profile themselves or hiring me to help them, they copy, paste, personalise it, and pass it off as their own. It's called plagiarism, and it makes my blood boil. When I was single, I had my own dating profiles ripped off (I read more than one guy's profile that sounded a heck of a lot like mine… BECAUSE I WROTE IT AND THEY STOLE IT). If you google examples of online dating profiles, you'll magically come across those exact words on dating sites. Not cool. I don't have the same problem with the love stories. But sharing my best dating profile writing work with you is really tricky.
I'm totally undercharging
While I'm all for dating and relationship coaches, matchmakers, and other self-proclaimed love gurus, it truly sickens me how much some of them charge. Heck, there are qualified and experienced marriage and family therapists with PhDs who don't make that kind of money! I don't get it. Oh, yes I do – there are a lot of rich suckers out there willing to part with large sums of cash for no good reason. (Have you seen Millionaire Matchmaker?) Well, I don't want to work with rich suckers. Everyone deserves love and happiness. However… I DO want to work with people who value quality relationships and marriages and are willing to invest a reasonable amount in this important area of their life. If my goal was to rip people off, I'd be typing this from my yacht in the Greek Islands. Instead, I'm typing this from my extremely modest rental apartment in a nice but not flashy suburb of Sydney because my goal is to do great work. I did the math and arrived at my prices based on time, expenses, value, and affordability. As long as I can pay my bills without burning out, I'll be able to continue to serve my clients to the best of my ability. That's all that matters to me.
I just want to get on with it
There's a lot of behind-the-scenes work that goes into a business like this and, frankly, I only have so much time for it. I refuse to be on every social media platform (Facebook is by far my favourite, so hang out with me there!), write long blog posts (why crap on and on when I can help you by getting straight to the point), be an SEO expert (if you even know what that is), shoot fancy videos (if I want to connect with you, I'll pull out my phone and hold it in front of my face), record a weekly podcast (LOL – that's like a full-time job), have the world's flashiest website (I'm not a designer, nor can I be assed with the time and expense required for professional photography) or segment my email list (meh – let's keep it simple). If I did everything 'properly', there'd be no time left over to, you know, like, DO THE WORK. I just want to write dating profiles, love stories, and help you with your dating and relationship dilemmas via email. Please don't let my lack of the fancy schmancy put you off. Take comfort in the fact that all I really care about is my clients and their happiness.
I'm making sacrifices for you
It's both a blessing and a curse that The Relationship Writer consumes my every sleeping and waking moment. On the one hand, it's a blessing to know I'm able to make a significant positive impact on people's lives. It gives me such a fulfilling sense of purpose. On the other hand, things would be a lot easier if I just worked Monday to Friday as a freelance copywriter and spent the rest of the time with my gorgeous man, wonderful family and friends, and cuddly pets. The time and money I spend on my business could be spent on meals, entertainment, clothes, my home, socialising, weekends away, and overseas trips. But I'd have a gaping hole in my heart if I knew I could have helped people with their love lives, but didn't. So, here we are!
Let's keep in touch
You know how I said I don't have time to be a biz-whiz? Well, that incudes emailing you every five minutes like other email lists you might have had the misfortune of subscribing to. (That's what the Unsubscribe button is for!) So, if you give me your BEST email address, I'll give you my BEST dating and relationship advice, starting with an exclusive bundle of goodies. But relax… I'll only email you about once a week. And only if I have something relevant to share with you. Sound good? Yay! Let's do this…