How to Write an Online Dating Profile: A What NOT to Do Guide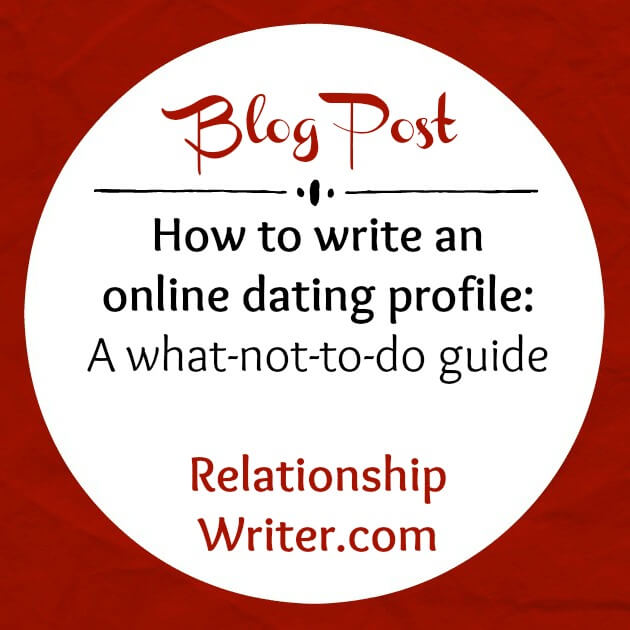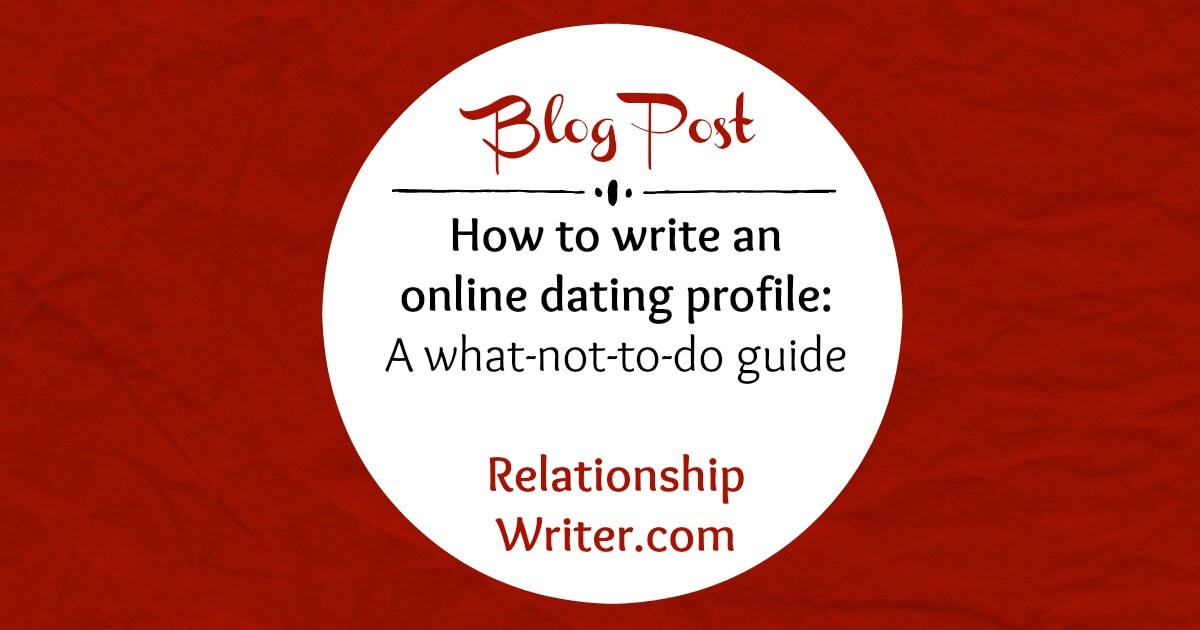 7 reasons why your online dating profile sucks (no offense) and how to correct them
If you're not having much success with online dating, it's probably not your BO (body odour) but PO (profile odour) that's the problem.
In other words, your online dating profile stinks. Maybe a little. Maybe a lot. In any case, it's on the nose. But don't worry. Think of me as your deodorant. Sometimes, the best way to learn how to write an online dating profile is to learn how NOT to write an online dating profile. So, let's get started…
Trust me – I'm a professional
As a copywriter by trade (that's a person who writes advertising and promotional material, in case you didn't know), humorous relationship advice book author, and experienced online dater, I've seen a lot of lousy online dating profiles. It's heartbreaking because behind every profile is a human being who just wants a little lovin' and doesn't quite know how to go about it.
In an effort to remedy the situation, I combined my writing expertise with my empathy for the online dating process and became a dating coach with a specialty in writing online dating profiles.
Persuasive writing isn't everyone's forte, and nor should it be – we all have different skillsets. But if you'll indulge my brutal honesty (and overuse of the word 'suck'), I can teach you how to write an online dating profile by outlining the seven most common online dating mistakes.
If you ensure you're not making any of these mistakes, you'll have a standout profile that attracts romantic prospects to you like seagulls to a French fry, like geeks to an iPhone launch, like me to a pint of gelato…
1. You suck at filling out your profile
Ironically, failing to complete your online dating profile speaks volumes. And here's the message you're sending loud and clear: 'Hi, I'm lazy. I can't be bothered to put much effort into this online dating thing, so don't expect me to put much effort into our dates or relationship.' Appealing, huh! If this is the approach you plan to take, good luck to you. But if you want half a chance of attracting someone special, start by completing your profile.
Online dating is time-consuming. If you don't have time to fill out your profile, you don't have time for online dating. Or dating. Or a relationship. Or a lifetime of happiness with a loving partner.
2. Your photos suck
You don't need to be a supermodel or stud muffin, but your profile pics are really important and should be an accurate and flattering representation of you. Not you many years ago. Not you when you were in much better shape. Not you from an extreme distance, blurred out, or concealed in some way. And not you showing off your car, pets, or landscape from an overseas trip, unless you're in it – looking like you. Follow these three golden rules and I promise your photos won't suck:
1) At least one recent, flattering close-up, 2) At least one recent, flattering full-length, and 3) At least one recent, flattering pic that shows off your personality or interests
That's all.
Okay, here are a few more tips:
❤ Half a dozen pics should suffice
❤ Smile – it's important to show you're a) warm, and b) have teeth
❤ Avoid mirror selfies – they're tacky
❤ Always leave other people (family, friends, kids, exes – especially exes!) out of it. Online dating is your business – not theirs, so respect their privacy.
3. You suck at spelling, grammar and proofreading
This is a bigger deal for some than it is for others, but why take the risk?
Think of incorrect spelling, poor grammar, and silly typos as the online dating profile equivalent of having a stain on your shirt – it's just not a good look.
Don't be a literary slob with no respect for the English language. If your spelling, grammar or proofreading sucks, have a professional (like me) assist you. Alternatively, enlist the help of a trusted friend who has a way with written words.
Online dating sites are competitive. It'd be a terrible shame to be repeatedly overlooked simply because you misused 'your' and 'you're'. It may seem petty, but these kinds of things drive some people absolutely crazy – like nails down a chalkboard. Fix it!
4. You suck at expressing who you are and what you want
The secret to online dating profile success is twofold: 1) Knowing who you are and what you want, and 2) Expressing who you are and what you want in an engaging way.
Of course, it's easier said than done.
Good online dating profiles are original, charming and attract the kind of people and relationships the person is looking for. Average online dating profiles are boring. (This makes up the majority of profiles.) And bad online dating profiles are negative, unrealistic, horribly written, or incomplete (and deserve to be ignored by everyone on the site).
People in the 'bad' category need an online dating profile overhaul – starting with their attitude. People in the 'average' category simply need to turn their adjectives into anecdotes with a little trick we use in the ad biz called 'show – don't tell'. In other words, don't SAY you're 'funny, love your family and enjoy overseas travel'. (Yawn.) SHOW you're funny by relaying a joke or amusing story. SHOW you love your family by explaining how you babysit your niece and nephew once a week so you can play 'Horsey' with them while giving your sister and brother in-law a date night. And SHOW you enjoy overseas travel by mentioning your top experiences, such as the inspiration you felt gazing over Machu Picchu or the sense of achievement you enjoyed conquering a black run at Chamonix.
Okay, in the interest of brevity (which is also important), you can't 'show' instead of 'tell' everything. Sometimes, you might just want to say you're a 'dog lover' or are looking for someone 'intelligent'. Anecdotes aren't the only interesting way to get your point across. If your profile contains a gorgeous pic of you cuddling your pooch, or lists that you studied at Harvard, 'dog lover' and desiring someone 'intelligent' will be implied.
Finally, if you want to ensure your profile isn't generic ('I'm smart, fun and down-to-earth') or full of clichés ('looking for my partner in crime'), spend a good hour or so scoping out the competition. Do the kind of search your Mr or Ms Right would do – age range, geographical area, race, religion, body type etc. – and see what others like you are saying. Then, make sure you stand out from the crowd.
5. You suck at selecting your 'ideal partner' criteria
Yes, I know 'Ideal Partner' has the word 'ideal' in it. But if you take it too literally, you run the risk of looking narrow-minded, even to those who fall within your criteria.
For instance, ladies, do you really need a man over 6-foot who makes upwards of a certain amount of money? And fellas, is it absolutely necessary for a woman to be younger (or a lot younger) than you, with a slender or athletic figure? Is it possible Mr or Ms Right could fall outside your 'Ideal Partner' criteria? If so, it's important you ease up on the restrictions before you turn lots of potentially wonderful prospects away. Think twice before you tell everyone you only date blondes or people of a certain race or religion. Finding love is hard enough. Don't make it any harder.
The only one I'll let slide is the smoking category. Most people flat-out don't want to date a smoker, which I think is reasonable. It's a disgusting habit that affects everything – intimacy, health and longevity. If smoking is a deal-breaker for you, that's cool by me.
6. Your attitude sucks
Sometimes, online dating profiles suck not because they're poorly written, but because the person's unfortunate attitude is oozing out of their carefully crafted words like pus.
For instance, despite being cute and charismatic, it's clear he hasn't grown up and still worships at the alter of youth and beauty. Or even though she's bright and bubbly, it's obvious she values wealth over warmth and status over sweetness.
But most often, when a person's attitude sucks, it's because they're negative. They don't believe in online dating despite around a third of newlyweds owing their start to online dating. They're bitter about men/women, dating, relationships or marriage. They're not over their ex husband, wife, boyfriend or girlfriend. They're annoyed about being the only single person left in their friendship group. Or they're just grumpy they haven't found love yet. Well, boo f*cking hoo.
I don't mean to sound callous, but if you're on a dating site, you're in the same boat as MILLIONS of other people. Your best chance at online dating success is a great profile plus a great attitude. Talk your issues out with a close friend, read some self-help books, see a therapist if you need to, or consider working with me. But get your attitude sorted.
A bad attitude is like a flat tyre – you can't go anywhere until you change it.
7. You suck at admitting you need some help
As I said above, persuasive writing isn't everyone's forte, and nor should it be – we all have different skillsets.
If I want to eat a gourmet meal, I go to a restaurant. If I want a cool business logo, I go to a graphic designer. And if I want a sexy new outfit, I go to a fashion store. I can't cook, design or make clothes.
But I can write. And I'm a Love U graduate. And I have a ton of experience with online dating. And I'm an online dating success story.
If you want to find love online, starting with a professionally written dating profile, you might be interested in working with me.
If you only do ONE THING while you're here…
Subscribe to my email list. Why? Because I'm giving my absolute best dating advice away for FREE. Please join me for my life-changing email series, Profile to Partner: The 'hallelujah' 14-step system to finding love online before you marry your cat! Simply enter your name and BEST email address below and prepare to have your confusion, frustration and disappointment put to rest. (You're welcome!)