0 comments.
Prologue: I was such an expert at being single at Christmas that I wrote a humorous yet helpful article about it a few years ago. If you're single at Christmas this year, I hope it makes you smile. But as of 2016, it's looking like I won't be single at Christmas ever again. Next Christmas, that could be you! Especially with my help. (Sorry. Shameless plug.)
Don't let being single knock the Christmas spirit out of you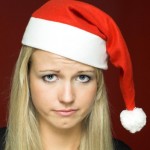 I've always been single at Christmas. In fact, I don't think I've ever experienced a Christmas and a relationship at the same time. Sure, I may have been 'seeing someone', but I'm yet to bring a significant other to the annual family Christmas Day celebrations. And this year will be no exception…
Now, before you break out the violins, or hand me a double-eggnog with extra cinnamon, you should know that I'm not remotely perturbed by this. It's simply how the cards have fallen, and I'm sure the day will come when I can barely remember what Christmas was like BC (Before Commitment), as I've been with Mr Right for such a long time.