2 comments.
I've been back on RSVP – the Match.com of Australia – for two months since I moved home to Sydney from NYC. And in that two months, I've already suffered two mini-heartbreaks (plus made one very special new friend, but we'll get to him a little later). So, here are my latest online dating experiences for your amusement and enlightenment. As I write online dating profiles professionally, I think it's fair to say I have a lot of empathy to bring to the table.
Happy Heartbreaks – Oh, the Irony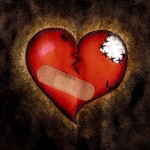 I see these mini-heartbreaks as both a good and bad thing. I haven't had my heart broken by an Australian man in… gosh… I don't know how long. Many, many years. I struggle to 'click' with Australian men, which is why I made a beeline for the US. My last three boyfriends (2008/9, 2013 and 2014/15) were all American. I love American men! We just seem to be a better fit. I think it's because they're more dynamic. Australian men, as lovely as they are (good looking, sporty, friendly, educated etc.) have a tendency to be a little too laid back for someone like me who's quite deep, passionate and unique. In short, I think I was always meant to be a neurotic New Yorker (heh heh).
After finally obtaining my visa to live in the US (after travelling back and forth on tourist visas for years) and finding a place to live (I'd signed a lease and everything), I had to come home from New York, after only three months, for a number of reasons. Doesn't mean I won't go back (I still have my visa), but I have no specific plans to return at this point. I wasn't going to start dating in Sydney in a big hurry. But after a month of being home, I thought what the hell, updated my RSVP profile and went live with it.
Technically, it was a hit. I made the Top 100 three times in the first month. It's nice to be popular and all, but I wasn't being popular with anyone I was interested in, so it meant nothing to me. Then someone special came along – let's call him The Viking.