0 comments.
NOTE: It pains me to say this (being a grammarian and all), but I've taken out the apostrophe in 'hen's night' and 'hens' nights' for search engine purposes. Okay…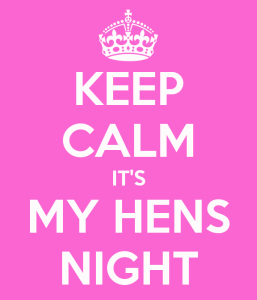 As a hens night entertainer (I have a live activity running in multiple cities called the Men Are Like a Box of Chocolates chocolate readings), I know one of my clients' main concerns is price. They want to organise something fun and memorable without breaking the bank. I totally understand.
Hens nights can be out-of-control expensive. It shouldn't cost a small fortune to get together with the gals and celebrate someone's last big night out as an unmarried woman (unless everyone's agreed they want to splurge). Hens nights are a great bonding experience, so it's important for the hen to have as many of her female friends and family members there as possible. It would be terrible if half the invitees couldn't afford to attend.
So, I've compiled a list of over 69 hens night ideas to get your party started. There are four categories: Tight Budget, Moderate Budget, Big Budget and Any Budget hens night ideas. The Any Budget ideas are games and goodies you can incorporate into your party to create a true hens night experience. But first, to set you on the right path to an awesome hens night, I've outlined some Planning Guidelines…