Meet the lovechild of Carrie Bradshaw and Crocodile Dundee (that's me!)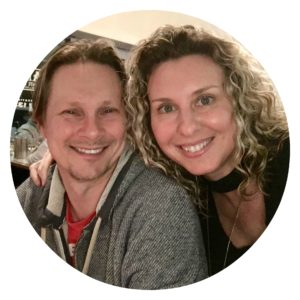 Hello and welcome! I'm Elly Klein – Your Dating Bestie.
As a professional dating mentor, I help women find their Mr Right as quickly and smoothly as possible. Why? Because it's much better than slowly and painfully. Trust me!
How do I do this? Well, for starters, I'm my own online dating success story. I was single for over 20 years (give or take a few relationettes and situationships), lived and dating in 3 countries (Australia, Canada and the USA) and did 11 years of online dating across 7 dating sites and apps before I FINALLY met my husband, David, online in our hometown of Sydney at the age of 38 and got married at 42. (Yep, that's us in the cute, round pic.)
You might be interested to know that David worked just as hard (if not harder) at online dating before he met me. He went on over 200 dates (yes, really!) in 2015 in an effort to find a woman he could share his life with. Good thing he didn't give up at the end of the calendar year because he only had to keep going for another 3 weeks before I came along… and ruined his fun. Ha ha!
An Americanized Australian (g'day, y'all)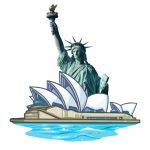 I'm originally from Sydney, Australia, but have lived and worked in Canada (Vancouver, Whitehorse and Whistler) and, more recently, the USA (New York – I recently went back to visit my friends).
I'm currently based in my hometown of Sydney. But as my last three boyfriends were American, half my friends are American, and many of my clients are American, I'm somewhat of an Americanized Australian. So, don't let the accent or time difference deter you. If you're American or Canadian, I'm totally on your wavelength.
My qualifications (a unique set of skills)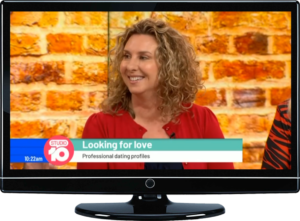 What makes someone a dating expert? Well, it's a combination of things, such as plenty of experience with dating, an insatiable passion for the topic and a knack for helping people find love – starting with yourself.
Simply being a therapist does NOT make you a dating expert, especially an online dating expert. My fave dating books weren't written by therapists. My fave dating coaches aren't therapists.
Unfortunately, there are no university degrees in online dating setting the standard. But even if there were, there still wouldn't be one right answer for everything. Different dating experts would disagree, just as different experts on every topic from politics to pizza-making disagree.
So, it's not fair to expect your dating expert to have all of the answers all of the time. But it is fair to expect them to have experience, wisdom and the ability to point you in a positive direction.
I've been helping people find love online for over a decade with my unique set of skills. And I've been obsessed with dating and relationships for over three decades. I also have a few professional credentials. Here's a timeline for you…
❤ In 1989, I bought my first dating and relationship advice book. I was 11 years old and I still have it (and love it). It was the first of many.
❤ In 1998, I graduated from university with a Bachelor of Communication (Advertising/Marketing).
❤ In 2001, I topped AWARD School (the auspicious Australasian Writers and Art Directors Association program). This is 'kind of a big deal' in the advertising industry, so it's an achievement I'll always be extremely proud of.
❤ In 2002, I started working as a copywriter in top advertising agencies writing print, outdoor, radio TV and new media campaigns for such clients as Virgin and Nestle.
❤ In 2004, I went freelance.
❤ In 2006, I began writing online dating profiles professionally. Being a copywriter, I always had a great dating profile and wanted to help others with theirs. I'm proud to say I've been thanked at a number of weddings as a direct result of my professionally written dating profiles, .
❤ In 2011, my humorous dating advice book, Men Are Like a Box of Chocolates, was published. It received a ton of media coverage in Australia and the United States. A highlight was the book being selected as one of 20 Australian products to be gifted to Ellen DeGeneres for Christmas.
❤ In 2015, I invested in a comprehensive 6-month dating and relationship course with a top American dating coach. I really enjoyed it, had some major breakthroughs and made a number of lifelong friends.
❤ In 2016, I met David online.
❤ In 2018, after building a healthy, happy relationship, I started working with clients one-on-one as a dating coach to help them find love online.
❤ In 2019, David and I got married and were lucky enough to have a beautiful wedding on Sydney Harbour with 90 family members and friends just weeks before the bush fires and months before COVID.
❤ In 2021, I launched Your Dating Bestie so I could help as many women as possible find love in a fun, effective and affordable community.
But enough about me – let's talk about you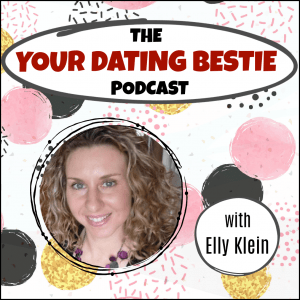 I could go on and on, but I think you'll find other pages on my website much more interesting…
❤ HOME / START HERE: This will give you a good snapshot of what Your Dating Bestie is all about.
❤ PODCAST & BLOG: For some juicy FREE dating advice, you can listen to the Your Dating Bestie Podcast and read my blog right here on my website or listen to the podcast in your fave podcast app.
Some of my must-listen podcasts episodes are:
–> Ep 2: Break up with your breakup: 3 unconventional mindset shifts for moving forward
–> Ep 4. Flakier than a fresh croissant: What to do when a promising new man lets you down
–> Ep 7: Where are all the good men? The definitive answer to this age-old question.
❤ HOW I CAN HELP YOU: If you want to find out exactly how I can help you, start by grabbing my FREE REPORT – Why You're Still Single: 7 reasons a luscious lady like you hasn't found her Mr Right (yet).
❤ MEDIA: Here you can watch me on TV, listen to me as a guest on various podcasts and check out all of my media appearances.
❤ CONTACT: Have a question or need to reach me? Click over to this page to email me.
Hey, babe! Wanna get social?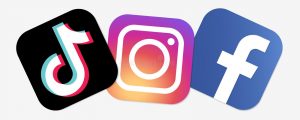 Follow me on Facebook, Instagram and TikTok @yourdatingbestie for daily pearls of wisdom.
And feel free to slide into my DMs (yes, really) and ask me a question. Catch you soon!