3 comments.
Don't miss my other handy New York piece: 44 NYC hotspots for tourists and locals.
Great loves usually come with an element of dysfunction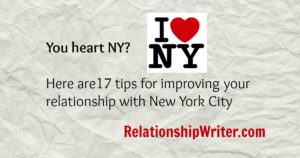 Ah, New York City. Like the one that got away, it's charismatic, seductive, full of promises… and totally dysfunctional.
Yes, despite our salacious on-again-off-again affair for a number of years now, New York and I have reached the point in our relationship where we're starting to see each other's flaws. That doesn't mean I don't still love it, but I'm beginning to question if things are going to work out between us for the long-term.
Of course, because of my deep affection for this magical place, I won't be letting go without a fight. New York and I just need to get to know each other a little better. We need to learn how to communicate and work as a team. We need to give it some time.
I realize my relationship with New York is a polyamorous one – I'm not the only person who's enamored with this town. And New York, being the big slut… err, apple… that it is, opens its arms to everyone within its orbit (including the poor, tired and huddled masses, as it says on the Statue of Liberty). If you're one of those people, even if you're just visiting, here are 17 NYC tips to help make your relationship with New York a little more harmonious. Hey, I'm not a jealous person. If New York and I are meant to be, we'll be…