0 comments.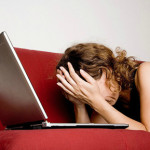 Hey, I don't mean to be rude. But if you're not having as much fun or success with online dating as you could, it's probably not your BO (body odour) but PO (profile odour) that's the problem. In other words, your online dating profile stinks. Maybe a little. Maybe a lot. In any case, it's on the nose. But don't worry. Think of me as your deodorant. Let me take you through the top 7 online dating profile mistakes and how you can fix them.
As an copywriter by trade (that's a person who writes advertising and promotional material, in case you didn't know), humorous relationship advice book author and experienced online dater, I've seen a lot of lousy online dating profiles. It's heartbreaking because behind every profile is a human being who just wants a little lovin' and doesn't quite know how to go about it – at least, not online, anyway. In an effort to remedy the situation, I combined my writing expertise with my empathy for the online dating process and became a professional online dating profile writer and mentor.
Persuasive writing isn't everyone's forte, and nor should it be – we all have different skillsets. But if you'll indulge my brutal honesty for a moment, here are seven reasons why your online dating profile sucks, and what you can do about it…
1. You suck at filling out your profile
Ironically, failing to complete your online dating profile speaks volumes. And here's the message you're sending loud and clear: 'Hi, I'm lazy. I can't be bothered to put much effort into this online dating thing, so don't expect me to put much effort into our dates or relationship.' Appealing, huh! If this is the approach you plan to take, good luck to you. But if you want half a chance of attracting someone special, start by completing your profile. Online dating is time-consuming. If you don't have time to fill out your profile, you don't have time for online dating. Or dating. Or a relationship.