Contact Elly Klein: Your Relationship with The Relationship Writer Starts Here
Email me via the contact form below or email me directly at elly@ellyklein.com.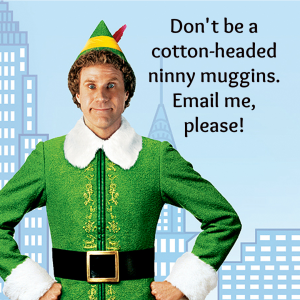 7 Reasons to Email Me:
1. You're single and would like me to help you find love online
2. You're coupled and would like me help you add depth and meaning to your wedding or anniversary
3. You need some help with your love life NOW and would like to ask me a question
4. You're an awesome gift-giver and would like to purchase something special for a single friend or couple.
5. You're a business owner or marketing manager and would like to purchase my humorous relationship advice book, Men Are Like a Box of Chocolates, in bulk to sell (alone or as part of a bundle or gift basket) or use as a delightful gift-with-purchase
6. You're a potential business partner, and would like to pitch me a mutually beneficial idea
7. You require my professional French Bulldog, Hungarian Vizsla or German Short-Haired Pointer cuddling expertise.
Random pooch appreciation moment…
Choose Your Own Email Adventure
1. Email me via the contact form below – but please be careful when typing in your email address, as I can't respond if I don't have your correct email address
2. Email me directly at elly@ellyklein.com It might be possible to arrange a phone chat, but let's start with an email. So, don't be a cotton-headed ninny muggins. If you think I could be of service, kick off your relationship with The Relationship Writer right now. I can't wait to hear from you!
Email Contact Form