2 comments.
Relationship entertainment – NOT relationship education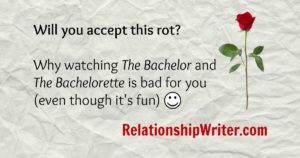 March 2016: Well, another season of The Bachelor has just concluded. Drop-dead gorgeous and truly delightful Bachelor Ben Higgins is engaged to the sweet blonde, Lauren Bushnell. The runner-up, JoJo (although, I prefer her full name – Joelle) is the new Bachelorette – and I have no doubt she'll be fabulous.
I'll admit it – I love The Bachelor. And The Bachelorette. As a dating and relationship expert, it intrigues me almost every season, unless I'm completely bored or disinterested in the particular Bachelor or Bachelorette. (Juan Pablo, anyone? I could barely watch an episode of that season. I thought he was a douche. And his 'sexy' accent and general arrogance irritated me.) Anyway, it's fun to see how the various relationships develop, and try to figure out who he or she will choose in the end, and why. But while watching The Bachelor and The Bachelorette is a kick, it's absolutely disastrous to live your love life by, and I have no doubt it's doing more harm than good, especially to impressionable young people (particularly girls/women who are obsessed with the show), as it's literally a what-not-to-do guide to choosing a life partner.