8 comments.
This piece was also published on The Huffington Post. CLICK HERE to check it out.
How we met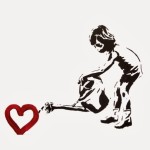 I'm a few months into a relationship that began in a most unusual way – at least for me. We met online (that's not the unusual part) during my recent three-month stint in New York. (I'm planning to move from Sydney to NYC, and this trip was a reconnaissance mission – or 'reccie', as us Aussies say.) Although better late than never, the timing was a little unfortunate, as it was three weeks before I was due to leave. Weary from the notoriously arduous NYC dating scene, and running out of time to meet and get to know someone new, I responded to a Jersey boy who emailed me. He looked cute, seemed nice, and appreciated the Goonies quote ('Goonies never say die!') in my profile. 'First you gotta do the Truffle Shuffle', he opened with. This was a good start to things.
Within a few days, we were face to face having a drink at a speakeasy-style bar near Washington Square Park. Thankfully, he lived up to his profile – he looked cute, seemed nice, and we talked and laughed easily. Our first date led to a second date led to a third date led to no longer keeping count. He kept asking me out – and I kept saying yes. While we were enjoying each other's company, we had a talk about not feeling as though this was necessarily going to go anywhere. But we liked each other enough to hang out until I left, and keep in touch thereafter. By the time I left, though, we'd become closer than I think either of us expected. Not 'crazy in love' Beyoncé-style close. But close.