The delicious secret to understanding men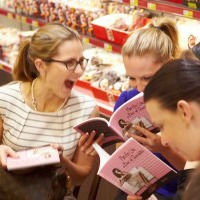 Men Are Like a Box of Chocolates, my humorous relationship advice book, was published in 2011. It was sold in bookstores, gift stores and chocolate stores, and received media coverage in Cosmopolitan, CLEO and many more. In 2014, it was selected by Hollywood Swag Bag as one of 20 Australian products to be gifted to Ellen DeGeneres for Christmas.
Men Are Like a Box of Chocolates uses chocolate as a metaphor for men. (Yum!) A drunken larrikin? He's a Rum Ball. A beach babe? He's a Coconut Chocolate. A sweet, but slightly chubby, foodie? He's a Chocolate-Covered Marshmallow. And a good kisser? He's a Chocolate Kiss. There are over 30 'flavours' altogether. Offering sound advice in a unique, hilarious and mouthwatering way, it's perfect for any woman who has ever turned to chocolate during a romantic crisis.
Scrumptious book sample
Check out the front cover, table of contents, three selected chapters and back cover of Men Are Like a Box of Chocolates by scrolling through this delicious book sample below.
Cheeky book trailer
What do Brad Pitt, Hugh Jackman, Russell Brand and Charlie Sheen have in common? They're all featured in the Men Are Like a Box of Chocolates book trailer (which is like a movie trailer, but for a book). Check out the celebrities you might like to take a bite out of…
Tasty testimonials
When you like something, you want share it! Check out these awesome social media testimonials from Men Are Like a Box of Chocolates fans…
Enjoying a night of humorous reading. It's like a secret bible! So much TRUTH! Men Are Like a Box of Chocolates! pic.twitter.com/E6QdNoTU0Z

— Megsy (@megy06) November 17, 2013
Best book a girl can ever own!! #menarelikeaboxofchocolates #ellyklein #singlegirl #boutmen #chocolate… https://t.co/KBUNGeKHIS

— Decode hair & body (@decodehair) November 28, 2013
— Lane (@THINKLN) January 17, 2013
Gifting @ellyklein's book to a girl you like is a bad move for any boy. But it's so fucking funny, I couldn't help it. #HilariouslyOriginal

— The Lone Cuber (@TheLoneCuber) January 17, 2013
How to snag Men Are Like a Box of Chocolates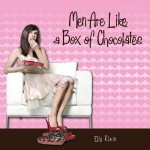 Email me at elly@ellyklein.com or via the contact form below and let me know how many copies you'd like and the address to which I'd be sending them. I'll find out the cost of shipping and handling and we'll go from there.
Pro tip: Pair it with a box of chocolates for a beautiful complete gift for all the single ladies in your life. Another idea: You could use the book as a fundraiser for a school, charity or sports team. They come in boxes of 40 and it doesn't cost that much extra to ship two boxes at a time.
Contact form
If you'd like to email me directly, my email address is elly@ellyklein.com. If you'd like to use the contact form below, please take care when entering your email address. If you make even the slightest error, I won't be able to reply, which would be a major bummer for both of us!